Skip to content
Crestwood KY Gold Star Families Memorial Monument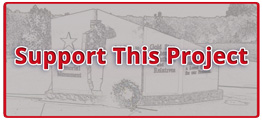 All donations made from this link will be designated for the Crestwood KY monument.
A new Gold Star Families Memorial Monument (GSFMM) honoring the families of servicemen and women who sacrificed their lives while serving in the military is currently being planned in Crestwood KY.
Groundbreaking occurred on June 5, 2019
The dedication celebration is scheduled for August 22, 2020.

Site location:

5901 Veterans Memorial Pkwy
South Oldham High School
Crestwood KY 40014



The public is invited and encouraged to attend the groundbreaking and/or dedication celebrations.
Ann Helton is the Honorary Board Member for the Gold Star Family Memorial Monument, Hershel Woody Williams Medal of Honor Foundation (HWWMOHF).

To learn more about donating to a Gold Star Families Memorial Monument, please contact the Foundation at monument@hwwmohf.org.
Honorary Board Member
Ann Helton
Committee Members
Don Helton, Emeritus
Billy Garwood - Co-chair
Lynn Romans - Gold Star Mother
Jerry Rankin - Gold Star Father
Greg Bethard
Galen Clark
Stephen Davis
Joe Hamilton
Steve Hargett
Chris Johnson
Jane Kaebler
Jerry McCandless
Mill Meade
Leonard Mulcahy
Scott Quinlan
Gold Star Family members and relatives are those who have sacrificed a Loved One for our Freedom.

The Gold Star Family Memorial was created by Medal of Honor Recipient Hershel "Woody" Williams to remember those families who have made the ultimate sacrifice. To learn more about the memorial, please visit our Gold Star Families Memorial Monument web page.

"Dying for freedom isn't the worst thing that can happen. Being forgotten is." Georgie Carter-Krell (Mother of Posthumous Medal of Honor Recipient Pfc. Bruce W. Carter, USMCD - Florida
Any excess funds raised for this Gold Star Families Memorial Monument Project will be used to further the mission of the Hershel "Woody" Williams Medal of Honor Foundation's of honoring Gold Star Families and their fallen Heroes through the establishment of Gold Star Families Memorial Monuments in communities across the United States, offering scholarships to Gold Star Children as well as sponsoring and hosting outreach programs and events for Gold Star Families.
---
Groundbreaking Ceremony - June 5, 2019
---
Media Coverage
---